AN ERUPTION of FLAVOUR to BLOW YOUR MIND
The fast food industry in Australia continues to grow at a strong rate so there has never been a better time to expand the Vulcano Gelato success than now. Modern times bring with it a strong drive toward healthy food alternatives with new products and players continually entering the market. In Italian, 'gelato' means ice cream and in Australia, we certainly love our ice cream! So much so that according to IBISWorld Industry Market Research 2010, we are the third largest consumer of ice cream in the world with an annual average per capita consumption of 18 litres per year trailing the USA with 23 litres and New Zealand with 20 litres. With statistics such as these and the current health trend in mind, Vulcano Gelato franchises are sure to be erupting in all locations!
Vulcano Gelato offers a truly unique and authentic Italian gelato that is made fresh daily using a recipe established in 1960 pre-packaged and imported exclusively for Vulcano Gelato from Vulcano Sicily, Italy. In fact, the only ingredients sourced locally and added to this phenomenal base include, but are not limited to, the fresh fruits and sugars.
Of course, a multitude of other additions from chocolate to pistachios also allows for an extensive and versatile flavour selection – the pinnacle being the secret recipe to our iconic and signature 'Vulcano' flavour.
Like all our gelato, this one guarantees an unsurpassable 'eruption of flavour' that dances on the tongue with a wicked tempo. Seriously, gelato has never been this hot!
As director of the Franchisor, Gino Maniaci is a young vibrant business man who grew up in the family business – 'Ritrovo (Bar) Remigio' – established by his grandfather in 1960 as a thriving seasonal cafe/bar style business on the breathtakingly beautiful island of Vulcano located off the coast of Sicily, Italy. It was here at Ritrovo Remigio that the secret base recipe of the world renowned gelato served in Vulcano Gelato today was inspired and cultivated.
In 2008, Gino opened the first Vulcano Gelato in Melbourne's destinational suburb of Rye to extraordinary results. A seasonal destination; in the warmer months it is nothing to witness lines extending 100 metres long of families, lovers, the young and the old alike waiting patiently … willingly … and in sheer anticipation for the Vulcano Gelato experience!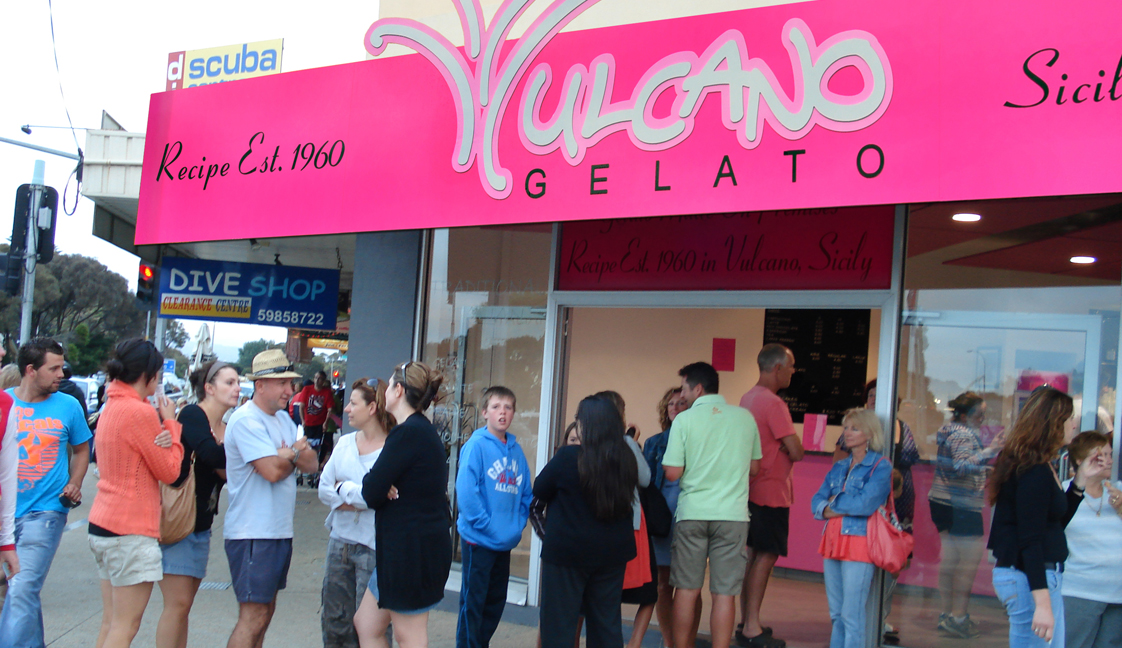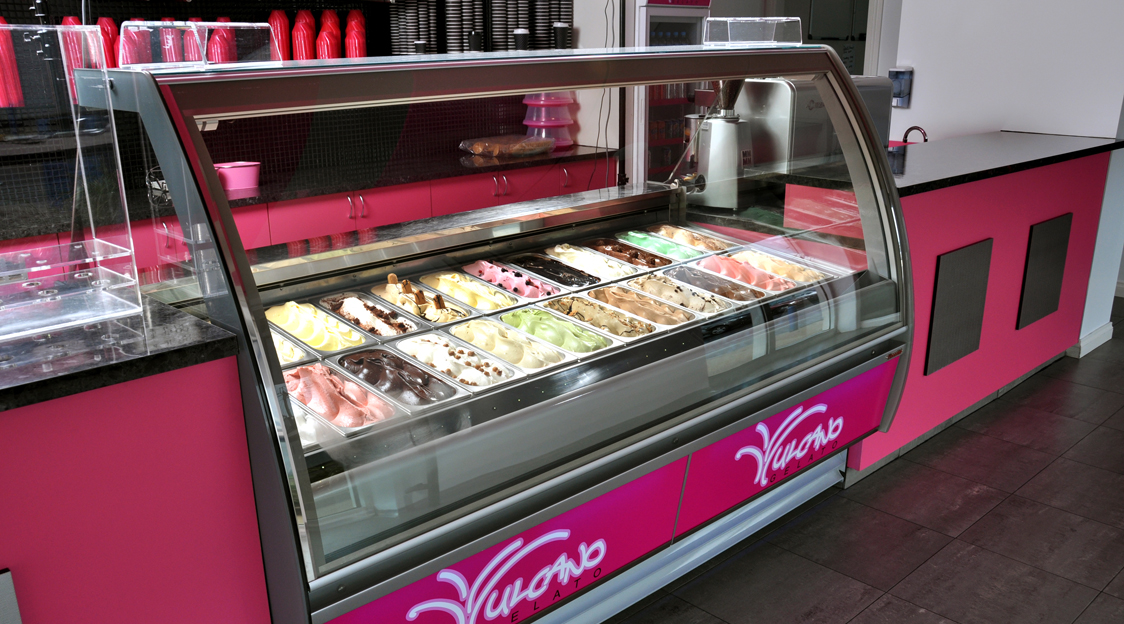 Our Iconic Signature Star Gelato Delights
Vulcano
Our very own iconic 'namesake' signature flavour and an eruption of layered flavours to blow your mind. Luscious, naughty and unpredictable, Vulcano will tantalise … tease … rumble and build you up to an orgasmic explosion! Gelato never tasted this hot.
Taste of Sicily
The Godfather of gelato … if we say any more, we'll have to kill you!
Cioccolato Fondente
A dark, mysterious and very, very exotic Italian … now here's a smooth dark chocolate demon to send you over the edge. And don't let the fact that it has zero milk fool you – its packing high voltage cocoa beans! Strictly for those that like it a little dangerous.
Crema
Spellbinding, to say the least … and everyone loves a little bit of magic. With a shot of the infamous Italian liquor Strega (aka 'the witch') in the brew, this one has been known to cast a bewitching spell of pure euphoria.
Just Some of Our Famous Favourites
Bacio Bianco
Creamy, dreamy white chocolate with whole hazelnuts … don't be fooled! There is nothing innocent about this 'white kiss' – once it touches your lips you will never be the same.
Cioccolato
A whole new love affair with chocolate …pure Italian style … smooth, sophisticated and unsurpassable.
Nocciola
Toasted hazelnuts from Italy that will have you whipped into a frenzy – a great one to go nuts over!
Limone
99% fat free made with freshly squeezed lemon juice to knock your socks off! There is nothing quite like it … totally mouth watering!
Cookies
For the kooky cookie cruncher in all of us this one is packed with cookies so you can crunch to your heart's content!
Caffe
For the espresso lover this one is made using freshly brewed espresso coffee – creamy like you wouldn't believe with the unexpected bursting of the odd roasted coffee bean, you are sure to be pleasantly surprised.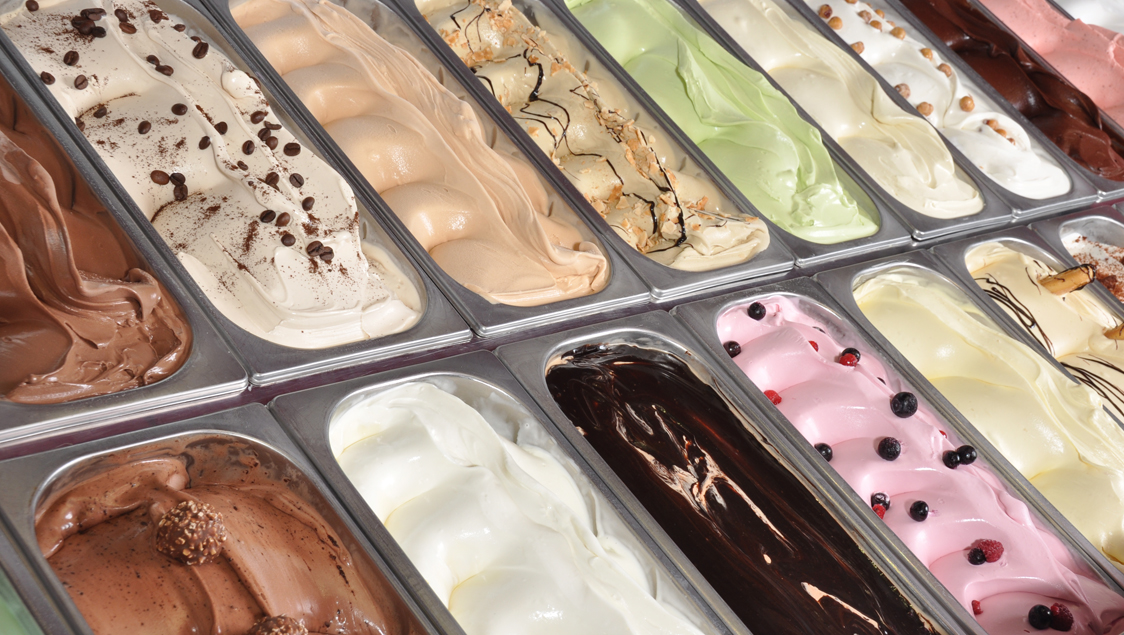 In fact, over 45 other delectable gelato flavours make up our repertoire plus a multitude of other spectacular titillating treat sensations made fresh daily to specific secret recipes including granita, brioche con gelato, coffee & cocoa concoctions, creamy dreamy considerations like our devilish panna, take home packs, gelato cakes and mini choc tops.
We believe that people are the most important ingredient in our success. Therefore, Vulcano Gelato seeks passionate Franchisees that will be dedicated to the company vision and philosophy and committed to the success of their very own Vulcano Gelato franchised business. True to form, Vulcano Gelato has brought together the finest ingredients – people, professionalism, market research, products, customer service, store design, proven state-of-the-art systems and documentation and corporate branding – and packaged them up as a cool and fresh franchise opportunity set for national and international expansion.
● Do you love people and possess a keen customer service focus?
● Are you friendly, energetic and enthusiastic?
● Do you have an innate passion for gelato?
● Are you willing to work within the Vulcano Gelato system?
● Do you have an genuine appreciation for life?
● Are you able to meet operational standards and follow procedures?
● Are you determined to achieve and succeed?
● Do you relate well with staff/employees and lead by example?
● Do you want to make your mark in the multi-billion dollar ice cream industry?
If you can answer with a resounding YES to all of those questions, then Vulcano Gelato WANTS YOU!
the multiple store investor's dream
Vulcano Gelato is currently reaping the rewards of good business planning, store design and a superior product range. The model has been refined to allow the owner of multiple franchises to operate stores at several locations with supervision and to maintain profitability at the same time. Of course, it is important to note that what you put in is what you get back out, and there is no business that can make money without care, drive, focus and attention to detail. Vulcano Gelato gives you the model to allow you the owner and/or operator to decide what level of business you wish to operate. This makes the Vulcano Gelato franchise an excellent business investment vehicle.
SINK YOUR TEETH INTO FRANCHISE SUCCESS
The benefits of franchising with Vulcano Gelato are pretty evident. Vulcano Gelato is a growing success and will continue to be for years to come. After all, the ice cream industry is here to stay! Some of the Franchise Benefits at a Glance …
● Proven Business Systems
● Super Cool Store Setup & Design
● Complete Turnkey Business
● State-of-the-Art Equipment
● Groovy Uniforms
● Exclusive Territory
● Opening Promotion Assistance
● Comprehensive Training
● Ongoing Mentoring & Support
● Group Buying Power
● Marketing & Merchandising Assistance
● Strategic Marketing
● Tailored Opening Promotion
● Corporate Website Listing
● Franchise Operations Manual
● Multiple Stores – The Investor's Dream
● And Much More!
---
For more information about a Vulcano Gelato Franchise contact Franchise Central today!
Estimated Investment: $257K – $352K

or please submit the enquiry form below.